I just started reading a new book called Rhinestone Jesus by Kristen Welch ( see below for book details) .  Which lead me to begin reading her blog We are that Family.    Of course I subscribed to her blog so that I could read her  posts on a regular basis.  Once I began receiving her posts I knew I was going to eventually beg her to let me share one of them with our 24/7 MOMS. Yep, I did the begging and she kindly allowed me to share with you this one 9 Things We Should Get Rid of to Help Our Kids.  I hope you will find it just as helpful and inspiring as I did.  Be sure to head over to her blog as well.
9 Things We Should Get Rid of to Help Our Kids
And then she lost it.
Accidents happen.
But it was the whole "It only cost ten bucks-you can get another one" attitude that I couldn't let happen a moment longer.
So, I gave her a job that required hard work and gave her the $10 she earned and then I made her pay me for what she lost.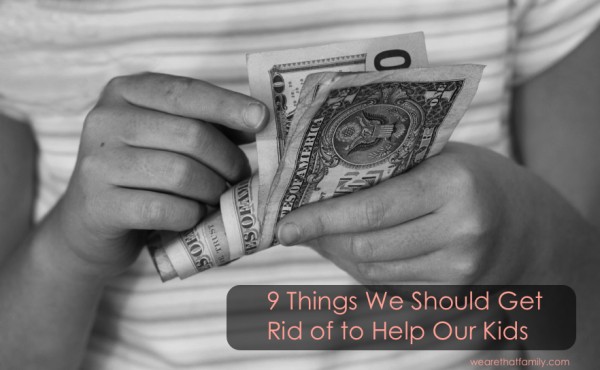 Listen, when I realized I was more than half the problem in this whole entitlement parenting challenge, it was a wake up call. Kids naturally want what they haven't earned, especially if we are handing it out for free.
But what we have is an entire generation of young adults who got everything they ever wanted with little or no work; we have a cultural norm and it's a problem.
Because reality is, life doesn't give us everything we want. We don't always get the best jobs or a job at all. We don't always have someone rescue us when we have a bad day or replace our boss just because we don't like them. We can't always have what we want when we want it. We aren't always rewarded in life.
Here are 9 things we can get rid of to begin eliminating entitlement in our children:
1. Guilt: Often we give into our kid's requests out of guilt. We need to stop feeling guilty for not giving our kids everything they want. It's hard to swallow, but we foster the attitude of entitlement in our homes when we are ruled by a guilty conscience. It's okay to ask kids to be responsible for what they lose and to require consequences for actions.
2. Overspending: I think it's good for our kids to hear us say, "We can't afford that" Or "We will have to save for it." Because that's real life. We don't have All The Money to Buy All the Things. I've known families before who are working multiple jobs to keep kids in extracurricular activities, when honestly, the kids would probably be happier with more family time.
3. Birthday Party Goody Bag (Mentality)-I've been guilty of this like most of us. But, really? We take our kids to parties so they can give a gift, but they take a small one home so they won't feel bad? It's not their birthday. This concept of spoiling kids (which usually goes far beyond goody  bags) is temporary fun. It's okay for them not to be the center of attention.
Click here to read the remainder 9 Things We Should Get Rid of to Help Our Kids over on Kristen's blog We are that Family.
Rhinestone Jesus
In high school, Kristen Welch wore a big, sparkly rhinestone "Jesus" pin to school every day and carried her Bible wherever she went. (Yes, she was that girl.) But she didn't realize her faith, though sincere, was shallow; much like her artificial accessory, it would one day tarnish, no longer a true fit for who she was. As real life catapulted Kristen into places and situations she'd never imagined, there came a day when she stood shocked in the slums of Africa and realized in one desperate moment that Jesus wasn't enough for her. At least . . . she wasn't living like He was. On the brink of a risk bigger than any she'd ever taken, Kristen knew she didn't stand a chance—unless she was willing to put aside the rhinestones and get branded by the real thing. Rhinestone Jesus is the story of one woman's journey from comfortably living a safe, "good-girl" faith that didn't cost much, to realizing that God was daring her to say yes to a bolder, more authentic, more dangerous way. This story of spiritual adventure throws the doors wide open for any woman who's ever thought of herself as "just a mom." Kristen will inspire and empower you to say yes to God right where you are—and stand amazed at how your life will shine.