For the past 20 years we have been keeping track of our Children's growth with a wooden growth stick.  I often am asked where one can purchase this or how to make one.. I went out searching for the how to DIY ( Do It Yourself) and found a great article over at Chica and Jo www.chicaandjo.com and they gave us permission to share it with our 24/7 MOMS.
How To Make Your Own Hand Painted Growth Chart
By : Chica
When my friend's little girl became a toddler and started growing like a weed, we knew it was time to track her growth, and we brainstormed to figure out how best to do it. Most of us have the fond memory of marking our height on a door frame in the house where we grew up, and it's quite nostalgic to look back at it over the years (I have such a chart in my garage from the family who lived here before and I refuse to paint over it). But these days people don't stay in one house their whole lives and you can't really take a door frame with you, so we needa portable — yet sturdy — solution. I solved my friend's problem by surprising her with a hand-painted wooden growth chart that she could mount on the wall.
Sure,you can just buy a growth chart. They sell them everywhere. My problem with the ones that I see in stores are that they are either
too short
,
too flimsy
,or just plain ugly! In addition, it's nice to have them personalized with the child's name. Plus I prefer homemade over store-bought crafts almost all of the time, so I just had to make this for that sweet little girl.
I started with a trip to the local home improvement store where I picked up a simple piece of wood that was 6 feet long, 6inches wide, and 1 inch thick. Look in the "nice" wood section (not the construction lumber) and you can easily find a nice piece of pine for just a few dollars.
I took the wood home and decided how I would mark it. I knew I didn't want my friend to have to put the board all the way on the floor because the baseboard would make that hard to do.I decided the board should be mounted one foot above the floor. That means that my first mark at the bottom of the board would be at 1 foot,and I had enough room to take it all the way to a 6 foot mark at the top. I decided I wanted an inch or two of blank space above the 6 and below the 1, so that means my entire board needed to be 5 feet, 4inches long. I took it to the garage and made a quick cut and I was all set. (I certainly could have kept the entire 6 feet of length, but I decided to trim it a bit.)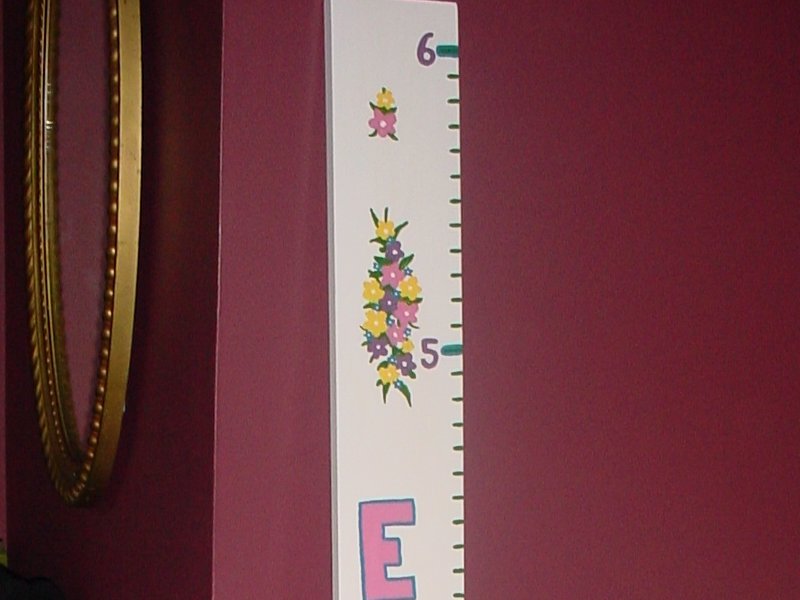 After a quick light sanding, I painted the entire board white on both sides,using some leftover trim paint I had. I then marked all my measurements with a ruler and a pencil. I put the "1″ mark 2 inches from the bottom and marked every inch and foot from there on up to the top, where I finished with the "6″. I then painted over the pencil lines with acrylic paint
.
Next was the fun part — painting the design! I started with large block letters that spelled out Emily's name which I outlined in blue and then filled in with pink. I then decorated the top and bottom with lots of tiny flowers and leaves. For simple flowers, just make 5 round petals and put a dot in the middle. For the leaves, just a quick swish with a paint brush will do it.
The finished growth chart now hangs in Emily's room and has lots of markings on it, measuring what a big girl she's turning out to be… she's up to 38 inches so far!
Toolbox ( what you need)
long piece of smooth wood (6′ x 6″ x 1″)
wall / trim paint
acrylic paint
brushes