Looking for a FUN treat to deliver to friends and neighbors this Halloween? This weeks DIY MOMS from Tidy Mom is the perfect DIY gift.
Be sure to visit Tidy Mom and see her amazing blog.
A few weeks ago I told you that I was able to use an incredible farm to take senior pictures for two gorgeous fun girls!
I wanted to suck up to thank the family for letting me use their gorgeous property and hoping they will let me use it again!
They have three young children……so I thought what better way to thank mom and dad?………
FEED their kids with LOTS of sugar! lol
Think they'll have me back?
Remember the Halloween Cookies I made? I made them to give to them, but wanted something cute to put them in.
So after wandering the aisles of Michaels one afternoon…..I came home with these……..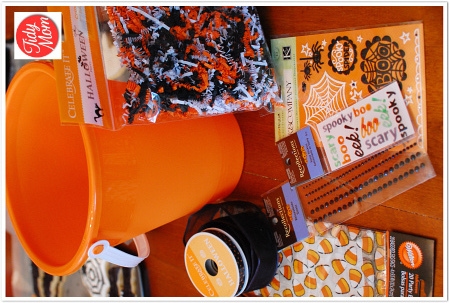 and turned it into THIS!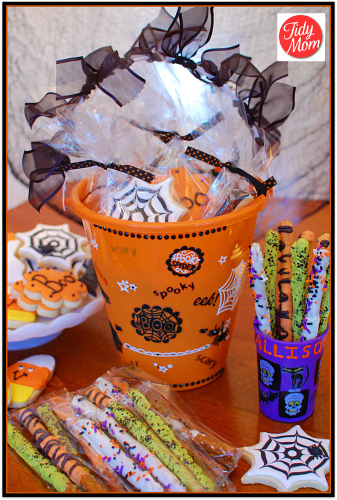 I bagged up several of my Halloween Cookies, and then made some dipped pretzel rods.
I found Halloween colored Wilton Spooky Candy Melts
and Halloween sprinkles
for the pretzels and bagged them 5 to a bag.
You can visit this post to see how I dip pretzel rods using a piece of wax paper.—SO EASY!
I didn't give them the cups…….we made them a few years ago.You can buy some cute Halloween plastic tumblers and put each child's name on them with a paint pen- it even holds up thru the dishwasher.
The Halloween Bucket of Cookies & Pretzels was a BIG hit with the kids….and Mom & Dad!