Raspberry-Cinnamon French Toast

Ingredients
12 slices cinnamon bread, cubed
5 eggs, beaten
1-3/4 cups milk
1 cup packed brown sugar, divided
1/4 teaspoon ground cinnamon
1/4 teaspoon ground nutmeg
1/2 cup slivered almonds
1/4 cup butter, melted
2 cups fresh raspberries
Directions
Place bread cubes in a greased 13-in. x 9-in. baking dish. In a bowl, combine the eggs, milk, 3/4 cup brown sugar, cinnamon and nutmeg; pour over bread. Cover and refrigerate for 8 hours or overnight.
Remove from the refrigerator 30 minutes before baking. Sprinkle almonds over egg mixture. Combine butter and remaining brown sugar; drizzle over the top.
Bake, uncovered, at 400° for 25 minutes. Sprinkle with raspberries. Bake 10 minutes longer or until a knife inserted near the center comes out clean. Yield: 6-8 servings.
minutes.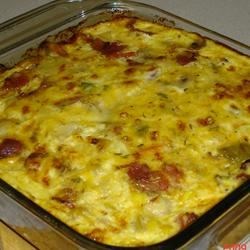 Egg and Bacon Casserole
Every Sunday is family breakfast day at our house. And I am not a big fan of eggs. But I found this great recipe that even the kids and I will eat!
from http://www.allrecipes.com/ It Will make a great addition to your Mothers Day Brunch menu and kids love it.
Submitted by: Tanya Peila
Ingredients
1 pound bacon
1 tablespoon butter
2 onions, chopped
2 cups fresh sliced mushrooms
4 cups frozen hash brown potatoes, thawed
1 teaspoon salt
1/4 teaspoon garlic salt
1/2 teaspoon ground black pepper
4 eggs
1 1/2 cups milk
1 pinch dried parsley
1 cup shredded Cheddar cheese
Directions
Preheat oven to 400 degrees F (200 degrees C). Grease a 9×13 inch casserole dish.
Place bacon in a large, deep skillet. Cook over medium high heat until evenly brown. Drain and set aside. In a separate skillet, melt the butter and fry onions and mushrooms until tender.
Place potatoes in bottom of prepared dish. Sprinkle with salt, garlic salt, and pepper. Top with bacon, then onions and mushrooms.In a large bowl, beat eggs with milk and parsley. Pour over casserole. Top with grated cheese. Cover and refrigerate overnight.
Bake in preheated oven for 1 hour or until set. If preparing and baking the same day, cook for 45
Luscious Lemon Fruit Dip Recipe
from: Taste of Home
Ingredients
2 cups sugar
2/3 cup cornstarch
1 cup cold water
4 eggs, beaten
2/3 cup lemon juice
2 teaspoons vanilla extract
2 cups heavy whipping cream, whipped
Assorted fresh fruit
Directions
In a large heavy saucepan, combine the sugar and cornstarch. Gradually whisk in water until smooth. Cook and stir over medium-high heat until thickened and bubbly. Reduce heat; cook and stir 2 minutes longer. Remove from the heat.
Stir a small amount of hot mixture into eggs; return all to the pan, stirring constantly. Bring to a gentle boil; cook and stir 2 minutes longer. Remove from the heat. Gently stir in lemon juice and vanilla.
Transfer to a bowl. Cool to room temperature without stirring. Cover surface of mixture with waxed paper; refrigerate until cooled. Fold in whipped cream. Serve with fresh fruit. Yield: 5 cups.
from: Nestle
Ingredients
4 large fresh or frozen strawberries, plus more for garnish
2 cups ice cubes
1/4 cup plain or vanilla sugar free, fat free yogurt
1/4 cup orange juice
1 packet No Sugar Added Classic French Vanilla Flavor CARNATION® INSTANT BREAKFAST ESSENTIALS™ Complete Nutritional Drink
1 packet artificial sweetener
2 mint sprigs, plus more for garnish
Directions
PLACE strawberries, ice, yogurt, orange juice, Carnation Instant Breakfast Essentials, sweetener and mint in blender; cover. Blend until smooth. Garnish with additional strawberries and mint.