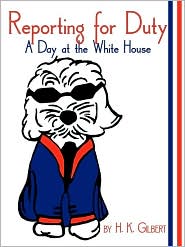 Reporting For Duty
by
H. K. Gilbert
Synopsis
Hi there! My name is Barkley. I'm a secret service dog for the president of the United States, and I'm reporting for duty. Every day, I help guard the White House, which is located in Washington DC. My job is to help keep America's first family safe and to make sure things run smoothly!
The White House is a pretty busy place; each and every day, a lot of people visit it. I try to run a tight ship around here and keep track of what's going on. It's a hard job, but someone's got to do it! I'm glad you're here today because I have a lot of sniffing around to do! Come on, let's go inside!
The White House in Washington DC, is not an ordinary house. It has 132 rooms, 35 bathrooms, 147 windows, and three elevators. In this picture book for children, Barkley, a secret service dog, provides a fun-filled tour through the White House. Barkley shows young readers the State Dining Room that seats 130 guests. He tours the Blue Room that is oval and is decorated with gold furniture. He views the Red Room where all of the furniture is red and he takes young readers to the Oval Office that is famous for its fireside chats.
Filled with coloring and drawing activities,
Reporting for Duty
not only helps children learn important historical information, it provides a fun reading experience with Barkley the dog as your guide.
It's big-time holiday fun with favorite preschool friends
Barney™, Bob the Builder™ and Thomas & Friends™
in special holiday collections of DVD 3-packs jingling into stores October 13, 2009 from Lionsgate and
HIT Entertainment
. Perfect for gift-giving, young carolers can sing-along to seasonal favorites and enjoy winter-time fun with the Barney Tee-Riffic Holiday Collection Gift Set. Join Bob the Builder and his Can-Do Crew in action-packed winter adventures that show you "having fun is in getting it done" during the holidays in the Bob the Builder: Building Crew Holiday Collection Gift Set. Travel down the tracks for cheery holiday adventures, daring rescues and heart-warming life lessons in the Thomas & Friends: Sodor Friends Holiday Collection Gift Set.
As a 14 years cancer survivor, Single Mom of 2 wonderful girls, now Physical Therapist I have first hand experience and empathy for those suffering with cancer. However, I feel I am not doing enough to help those with cancer or contribute financially to research promoting prevention and a cure for cancer. Therefore, I decided to add to my PT career and start a small business designing and selling hair clips and accessories with a portion of all proceeds going towards cancer research through the American Cancer Society.
Having two young daughters, I thought what a better way than incorporating a business for woman and children for the cause of cancer. I am fortuna
te to be amongst those who can be called a cancer survivor and Thank God, family, and friends for prayers and support now and during my ordeal.
Dedicated to helping you succeed in enjoying the creative process,
YouCanMakeThis.com
provides detailed, step-by-step guides for making fun projects in a variety of DIY categories. The guides are available for you to download immediately after purchase – most as PDF documents.
YouCanMakeThis.com
(or "YCMT" as our customers call us) was launched in 2006 by Kim Christopherson, a mother of three, who wanted to share her expertise in creating handmade items. Kim reached out to others she knew that could share and invited them to join her in creating detailed guides that anyone could follow to create items for loved ones or even to sell. Since then the list of authors, most also mothers or grandmothers, has grown to over 200.
YouCanMakeThis.com
is dedicated to providing high-quality instructions for you, our customer. Our strict submission guidelines and review cycle is in place to make sure that when a customer buys a guide off our site, they will be able to successful complete it.
The inspiration for Mo's Nose™ struck Margaret Hyde in the middle of the night as her best friend's rescued dog, Mo, lept into her imagination. She awoke and wrote the idea and text for Mo's scent-filled adventure. Margaret called on Mo's mama, and her best friend of twenty years, artist Amanda Giacomini to illustrate, and together they brought the vision of the series to life.
Because Margaret and Amanda's creative collaboration grew from their friendship and their love of animals, they are committed to using the Mo's Nose™ brand as a way to make the world a better place for all four legged creatures and their humans. From their innovative Friends of Mo philanthropic events to their sustainable product line to storylines that celebrate life and giving,Mo's Nose™ aims to entertain and excite the senses while inspiring a shift of consciousness focused on caring for others, charitable actions and grassroots generosity. To put it simply, Mo smells love.