Thumbuddy To Love™ is the first positive teaching tool for thumb suckers. There is Ballerina Sue for girls and Fireman Fred for Boys (Recommended for ages 3-6). The cute illustrated books are meant to be read often as it teaches children that they need their thumbs to do important tasks like climbing ladders to fight fires or dancing in ballet competitions. The matching thumb puppets come with the book to be worn day or night as a reminder to stop thumb sucking. There is a calendar in the back of the book with stickers to motivate kids to get involved and mark off the days they do not suck their thumb. Created by a former thumb sucker, Andrea Van Ness, believes in teaching kids to stop thumb sucking in a positive and fun way rather than using negative tools such as thumb polish which can have harsh chemicals in it. Recipient of a Mom's Choice Award 2009. The American Dental Association recommends stopping thumb sucking at an early age to prevent damage to the teeth.
http://www.thumbuddytolove.com/
STATkids® has developed a line of health identification products designed to identify children by their specific health issues and facilitate the management of an emergency situation. The STATkids® products enable parents to communicate their children's health concerns and ensure that their teachers and caregivers are equipped to handle them, which is especially important when children are too young or otherwise unable to communicate their needs to others. The number of children with food allergies, Celiac Disease, Asthma, Diabetes, seizure disorders and other health concerns has risen dramatically in recent years and the need for practical, age-appropriate, kid-friendly products to alert others to their needs is critical. The STATkids® line includes specially sized, 100% silicone wristbands; lunch bags and backpacks that display a customizable health ID card; travel packs that carry emergency medication and information, and more. http://www.statkids.com/
Now we've got something for the super hero in your life! Our super-cool capes are made of satin on one side, with yellow shield topped with an appliquéd monogram. Letters come in cool pirates, fiery flames or fun polkas & stripes for pink capes. As an added bonus, these capes REVERSE TO MAGICIAN'S CAPES!!! Their soft panne velour underside is embellished with rhinestud stars for that perfect "magic" look! You won't find a cape this cool anywhere!! Capes are available in red, blue and hot pink. http://www.cutiepatutus.com/
My Very Own Name is made especially for each child, featuring the child's first name, last name and birth date. In this beautifully illustrated story, animal characters bring letters one by one to spell the first and last names of the child. The lamb brings the L, the elephant brings the E, and so on, until the child's first and last names are spelled in rhyme. At the end, the animals celebrate because they've created the perfect name. The book also includes an illustrated encyclopedia of 61 animals, with fun facts about each. This educational book helps young children learn to recognize letters and spell their names, and it is a wonderful way to show the child how special and unique he or she is. It makes a perfect newborn gift, birthday or holiday gift for boys and girls ages 0-8.
http://www.iseeme.com/
"Funky Monkey Snacks" are freeze dried fruit – all natural, with no added sugar, preservatives, colors or flavors. They are gluten-free, wheat-free and dairy-free. They come in four delicious flavors: Bananamon (banana and cinnamon), Carnaval Mix (banana, pineapple, apple, papaya and raisins), Jivealime (pineapple and lime juice) and Purple Funk (banana and acai berries). The individual bags with their bright and colorful packaging make it a perfect snack to throw in kids' lunches and backpacks and go! http://www.funkymonkeysnacks.com/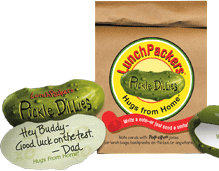 LunchPackers are 'pop-open' notecards that make it easy for busy moms and dads to include a quick note or just send 'as is.' It's hard to compete with the colorful packaging and hype of store-bought lunch foods, but LunchPackers will definitely add some fun to a healthy, homemade lunch. They're like tearing open a lottery tickets and being a winner every time—kids love them! There are four different kinds:
• PickleDillies open to jokes, knock-knocks, and riddles• One Smart Cookies (chocolate chip, of course) provide brainteasers• Twisted Trivia are pretzels with trivia questions• Banana VanGoghs open to a 4-step art lesson.
They have won several awards, including two Parent's Choice Awards and an I-Parenting Award. http://www.lunchpackers.com/
Dreamfields is a premium pasta with twice the fiber (5 grams), fewer digestible carbohydrates and a lower glycemic index than traditional pasta. Like other premium pastas, Dreamfields is made primarily with durum wheat semolina, but adds a one-of-a kind protein-fiber blend that provides its unique qualities. The added fiber makes it comparable in fiber content to whole wheat pasta. Dreamfields' unique recipe and manufacturing process, which are patent-pending, protect all but 5 grams of the carbohydrates per serving from being digested. As a result, the blood glucose rise from eating Dreamfields pasta is lower than that from traditional pasta. Its delectable taste and nutritional benefits make Dreamfields a healthful option for people with diabetes, and a flavorful, healthful nourishing pasta for the entire family. For more information visit us at http://www.dreamfieldsfoods.com/. Look for our newest variety, Angel Hair, at your local supermarket.