24 Minutes of Live MOMversation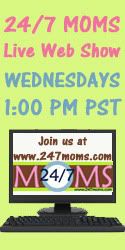 Each Wednesday at 1:00PM PST 24/7 MOMS will air 24 minutes of Buzzin mom news, Relevant MOMversation, TIP Talk – simple tips for moms, 60 second giveaways along with featured guests. All live, along with the ability to CHAT Live with us and share your own MOM stories, ideas and comments as you watch 24/7 MOMS Live. Right here at www.247MOMS.com.
Grab our button and invite your Mommy Blogger friends to tune in weekly for 24 minutes of Live MOM Time.
Be sure to Twitt this and Share about it on your Facebook by clicking the buttons below.